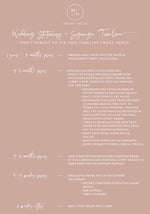 A Timeline & Guide to Purchasing Your Wedding Stationery & Signage
Have you been engaged for 2 seconds and everyone is asking you about all the wedding plans you've made already? Haha, don't worry, it happens to everyone.
First Off...
Congratulations! Becoming engaged is exciting and romantic, take it all in! Breathe a little! Okay, that's enough ;) Just kidding.
The Sooner the Better
Seriously though, when you do decide to start planning, it's difficult to know when and where and what and who. So, in terms of wedding stationery and signage, let me make life a little easier for you. I present to you...the cheat sheet! This little timeline can help prepare and guide you through the process of designing and purchasing your paper (not always!) goods.
A simple rule of thumb, the sooner the better! However, we understand that certain factors come into play at different times of planning (i.e., final head counts, ugh), so read this ahead of time and know what to look out for on your end. If you're someone who wants a custom design for your wedding with all the bells and whistles, give yourself (and your stationer!) lots of time to work on things. Color selection, rsvp wording, and printing techniques all have particular details that you'll want to take your time determining.
Did you read the rsvp deadline suggestion I mentioned? It can mean the difference between paying rush fees and relaxing at a spa worry free. Most (if not all) vendors ask for all final details (i.e., head count, table layout, meal selections) to be submitted and agreed upon 2 weeks prior. So why have we traditionally made RSVP's due at the same time? That's just asking for the process to feel like crunch time and super stressful. Not to mention, when certain items like plated menus and favors require time to be ordered, printed and shipped you can easily find yourself paying rush fees just to make sure you have them in time. Why do it to yourself? Try and make your deadline at least 4 weeks ahead of your wedding. You'll thank yourself when you get to relax the entire week and a half prior to the big day.
Having certain info prepared along the way can help ensure that your design process can run smoothly with the least amount of revisions necessary - which is great, because in our opinion - branding your event is one of the best parts of planning!
xoxo,
Andrea