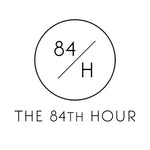 Welcome
Hi and thanks for visiting! My name is Andrea and I am owner and lead designer behind The 84th Hour. My 12 year journey as a graphic designer has allowed me to explore many ways to channel my creativity but when I began designing invitation suites and event details, I knew I had found my love. I was hooked on the ability to create different "stories" for different couples. After all, that's what weddings (events in general) are -- stories.
Your story doesn't begin at the start of your big day. It begins with the process of creating the perfect invitation suite for you to send to your guests. It is your big day's first impression, the book cover if you will, and I want to make the guests feel like they can't wait to read your story! All of the small details that carry through to your ceremony and reception (like welcome signs, menus and drink stirrers) only make the story more personal, thoughtful and vibrant.
So thank you for your interest and I look forward to working with you. Let's make something beautiful.
xoxo,
Andrea