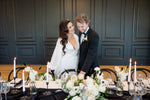 Modern, Romantic, Black & White Styled Shoot
A Sure Thing
What's more timeless that a black & white color palette? Can you think of any other combination that has not only survived, but has remained stylish throughout decades? The answer is no - making this palette a sure thing. This combo mixed with highlights of the softest pink made this styled shoot timeless, romantic and sexy all at the same time. It's twist? The modern finishes that make it so chic.




The Inspiration
This shoot's vision was led by Wedding Planner, Frances Steiner (Events By Fran/@eventsbyfran) and held at the beautiful Spanish Hills Club in Camarillo, California. While she shared her vision with every vendor on board, she never stifled our individual take on it and what we brought to the table. I knew I would be working with acrylic for the signage and I jumped at the opportunity to incorporate a matte black finish. It was definitely the right choice, smooth and the matte finish matched tablescape items like the candle holders. This would carry over to all the signage as well as other items like the metal frame used for the welcome sign and even the wall behind the bride and groom in the featured image.
I feel that texture is so important in the aid of communicating the aesthetic as a tertiary read. Most of us see and admire with our eyes, but feeling a texture and it's characteristics can invite subconscious feelings in the observer. When something is smooth versus rough it's more inviting, isn't it? When something is engraved, don't you stop and feel the inclination to run you finger over it? I think texture and finishes might be one of the most underrated elements of design within weddings. I'm here trying to change that one design at a time. No, I don't wear a cape :)
In all seriousness though, consider the finishes of your invitation suite paper, your signage and the linens on your tables as much as you would your dress' fabric. It's these details that set your items and overall design apart from the rest.

I can only share a few sneak peeks for now. You'll have to come back for more ;)


Creative Team:
Venue: Spanish Hills Country Club @spanishhillsspecialevents
Event Designer + Planner:  Fran Steiner, Events By Fran @eventsbyfran
Event Coordinator: @priscillalosey
Photographer: Kelsey Rinaldi @kelseyrinaldiphoto
Videographer: Jeremy Foster Films @jeremyfosterfilms
Florist:  Tangled Lotus @tangledlotus
Rentals: Amigos Party Rentals @amigopartyrentals 
Bridal Dress + Cape + Wedding Accessories:  Ever After Bridal @e.a.bridal  
Bridal Shoes: Bella Belle Shoes - Anita Black @bellabelleshoes
Headpiece: Bel Aire Bridal accessories

Bridal Earrings & Denim Jacket: @untamedpetals
Bridal Rings: Olivia Mar @byoliviamar
Ring Box: The Mrs. Box @the_mrs_box
Earrings: @bhldn 
Groom's Suit + Shoes: Friar Tux @friartux
Models: Taylor Young and Tim Kemerling
Makeup & Hair:  Makeup & Hair by Jackie Romero @jackiemakeup11 
Cake:  D'lectable D'lights @dlectabledlightsforme 
Invitation Suite:  Minted Weddings @mintedweddings
Plated menus, welcome/bar signage, table numbers & place cards: The84thHour @the84thhour
Ribbons: Honey Silks & Co. @honeysilksco
White Balloon Wall:  Balloon Artist 805 @balloonsartist805